Learn the basics to get started with Transect Reports.
A Transect Report provides environmental due diligence information for a particular geographic area. To create a report, you will draw a project or upload your own KML, answer a few questions about your project, then order your report. In a few minutes, your Transect Report will be ready to view.
In this Quick Start Guide, you can find out how to:
Create a Transect Report
Click "Create a Report" on the Dashboard.
Give your project a name (and a tracking number, if you want).
Click Next.
In the map that pops up, create your project boundary in one of two ways:

Using the polygon or line tool, freehand draw your project boundary; or,
Using the Upload button, or by dragging and dropping from your desktop, select one of your own KML or KMZ files as the project boundary.

Click Save Geometry.
Fill out the context questions for your project.
Click "Order Report."
You will receive an email with a link to view the report when it is ready to view.
Looking for more? See our full tutorial + video on How to Create a Transect Report
New to Transect? Get your first report free by following the steps above. Transect will allow you to order one complementary report less than 10,000 acres. For any additional reports, a subscription is required.
View an existing Transect Report
From the Dashboard, click Reports in the top menu bar.
Scroll or use the quick filter to find the name of the report you want to view.
Use the eye icon on the lefthand side of the Reports table to open the report.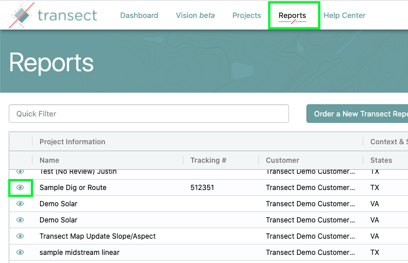 Download a PDF of a Transect Report
A presentation-ready, abridged Transect Report is available for download following the completion of the expert review (if an expert review was requested during setup). Each Transect Report PDF includes the a cover page with project information and a map of the AOI, executive summary, permit matrix, list of applicable regulations, environmental compliance records, protected areas, and list of references.
From any Transect Report, click on the Sharing & Export tab on the left sidebar menu.
Assuming that your report is complete and, if requested, has been expert reviewed, a Generate PDF button will appear on this page.
Click Generate PDF.
You will receive an email with a link to view the PDF when it is ready.
Looking for more? View our full tutorial on how to create and download a report PDF.