Step-by-step approach to determining the buildable area for your project site in Transect Reports.
Overview
Our Buildable Area tool in Reports allows you to use all of the map layers in a Transect Report to define the boundary of a preferred buildable area. You will do this by excluding and buffering map layers that represent landscape or infrastructure characteristics that you don't want to build on.
Generate a Buildable Area
Navigate to the Buildable Area tool (it's the magnifying glass icon in the left tab)
Select the map layers and sublayers you would like to exclude from your buildable area. Click on the dropdown to add a buffer around them, if desired (up to 249 feet per buffer). As you add layers and buffer, they will populate in yellow on the map.
Once you have made all of your selections, click the Buildable Area generation button at the bottom of the tab; allow 2-5 minutes to generate.
You will receive an in-app and email notification when your Buildable Area layer is ready to view. Refresh your browser and you will see that the Buildable Area map layer is now available on the Map Layers tab. An acreage ticker will also appear that provides the total buildable acres and the acres of each shape that makes up the buildable area (if there are multiple).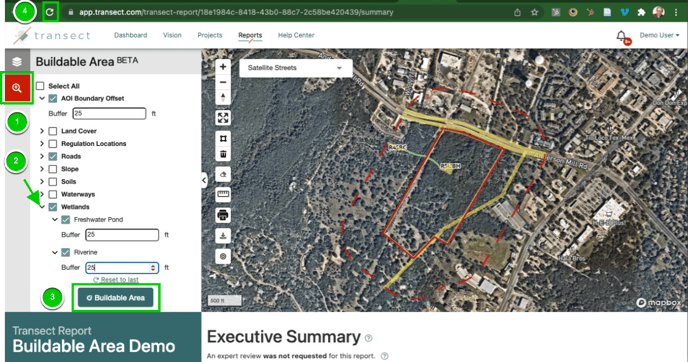 Hiding Buildable Areas
The Buildable Area layer is often made of up many separate and distinct polygons (shapes) due to the dissecting nature of the exclusion areas. You can hide any polygons that you don't want to include in your buildable area by expanding the acreage ticker and clicking the "eye" to turn hide/unhide. You can also click on the polygon itself to hide/unhide. All polygons that are less than 1 acres are automatically hidden, but these can be unhidden if desired.
Create a new Transect Report with your Buildable Area as the project area
With the Buildable Area layer turned on in the Map Layers tab, Select Buildable Area map layer
In the acreage ticker, select Order New Report
In the resulting modal, give your new report a name. The context questions from the current report will be auto-populated for your new report, though you are welcome to change them. Choose if you want an expert review.
Click Order Report.
Generate a KML of the Buildable Area
1. Navigate to the Sharing and Export Tab > KML
2. Make sure the Buildable Area layer is included in your KML download
3. Click the Generate KML button at the bottom of the builder
4. In several minutes, your KML will be ready to download. You will get an in-app and email notification. Download the KML from the notification email or the Exported KMLs table below the builder.